When Dean retired and moved back home to Texas, he was asked by several civic groups and high school classes to give speeches about being an Olympian, athlete and being in show business, to speak about his life and career.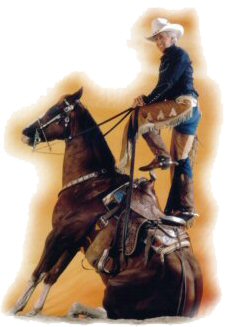 He has also since retiring, traveled to many schools and charity events and performed with his Trick Horses Hollywood, Sunday, and Max for the children, to speak to the children about the western way, how to believe in ones self, to live a clean life, "if you can dream those dreams you can make them come true". To give them a cowboy hero to look up to like his heroes, Gene Autry, Roy Rogers, John Wayne, Gary Cooper, and Tom Mix, the ones he grew up with when he was a boy. He has two ranches in Stephens Co. One with a mile of the Clear Fork of the Brazos, land that has been in his family since the 1800's. And the land on which he lives in Ivan Texas where he grew up as a boy. He raises longhorn cattle on each place.
For the last twenty five years Dean has attended, participated, and performed with his horses Hollywood and Sunday, in many Celebrity Rodeo's for Charity. The Ben Johnson's for children's charities in Arizona, Texas and Oklahoma. The Bobby Norris Roundup for Autism in Dallas, Texas, which he still participates in. Since having lost so many of his friends, fellow athletes, cowboys, actors, and stuntmen to cancer, and seeing first hand, his dear friend John Wayne, stuntman Chuck Roberson, and Carol Johnson (wife of Ben) battle cancer. Dean vowed to help in any way he could. He decided to follow Ben's lead. He put on the 1st Dean Smith Celebrity Rodeo in Graham Texas in November 2002 benefiting the American Cancer Society with a tribute to Ben Johnson. In 2004 he put on the 2nd Dean Smith Celebrity Rodeo in Abilene, Texas benefiting the John Wayne Cancer Institute. In February of 2005 he was diagnosed with the dreaded disease "Cancer", Multiple Myeloma. Today he along with Debby goes once a month to Fort Worth for treatments, works out regularly at the wellness center in Graham, takes Finis to school, and spends as much time as he can on his ranch with his family. He still rides and participates at celebrity events, is co-writing his autobiography, and is working on the next Dean Smith Celebrity Rodeo in 2006 to benefit the John Wayne Cancer Institute.
Dean feels he has been so blessed to have so many of his dreams come true. He still has dreams and would like to be apart of producing and making "good" westerns, like the ones he grew up watching as a young boy, and the ones he worked in, during his movie career.